Photo gallery
Here is the winner and the other entries to the competition.
Click on the picture thumbnail to see more information about the picture and a larger version. If you leave your mouse hovering over the picture, you will also get a brief description of the image.
Competition Winner: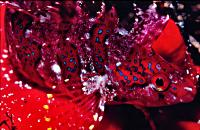 The winner of this year's photo competition is Guido Zsilavecz with his excellent photo of a new species of clinid (klipvis) to be described as Pavoclinus caeruleopunctatus, the blue-spotted klipvis. Congratulations on your win!
Competition Entries:
---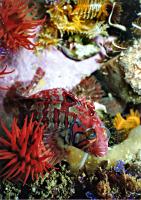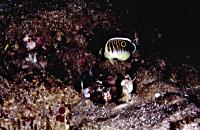 ---

Please note that pictures in this gallery or its subpages may not be reproduced elsewhere in any form without the written consent of the relevant photographer.
Notes on scanning etc.
Slides:
Slides were scanned at 1350 dpi on our Nikon CoolScan II scanner. They were then resized to 800 pixels wide (or tall in portrait shots) to fit on screen and an unsharp mask (radius 2, 50%) applied to the image. This was then saved as the larger size. The unsharp mask was then removed, and the thumbnail generated (largest dimension resized to 200 pixels) and the same unsharp mask applied. This was then saved as the thumbnail images you can see above.
Prints:
Prints were scanned at 150 dpi on my HP Scanjet 5100C flatbed and the same filters and resizing used on the slides was done.