Conducted by
Sponsored by

WOW! Photo, February 2003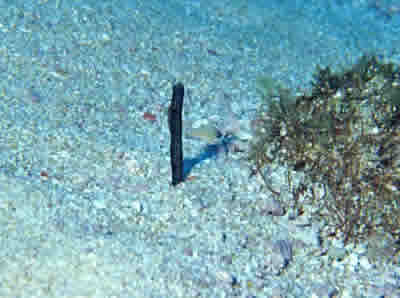 Garden Eel, (Heteroconger hassi)
Photo by Dennis King.
(click for larger picture [193K])

We first told you about the discovery of garden eels in Sodwana Bay in October 2001 in our newsletter (The Fish-Watcher):
"The most exciting discovery was Sally Polack's finding the spotted garden eels (Heteroconger hassi) at Sodwana Bay! With all the diving at Sodwana, it's amazing that no one has previously seen these garden eels. Maybe some other divers have seen them before and didn't know that these eels weren't reported from South Africa?"
Dennis' photo is the first live garden eel photo in South Africa. Garden eels are very difficult to photograph underwater, as they are very wary and do not like being approached, tending to dart back into their tunnels at the first sign of an approaching diver. The fish in this picture is unusually dark. Any photographer that wishes to rise to a serious challenge might like to stalk these creatures at Sodwana Bay and see if they can better Dennis' photo!

Other images of Heteroconger hassi:

Photographs of specimens from the Comoros.
Many thanks Dennis, for sharing your WOW! PHOTO.
---
All text, images and photographs copyright © 2000, 2001, 2002, 2003, 2004, 2005 & 2006
South African Institute for Aquatic Biodiversity or the respective photographer. All Rights Reserved.
Last update: November 7, 2006