Conducted by
Sponsored by

WOW! Photo, March 2003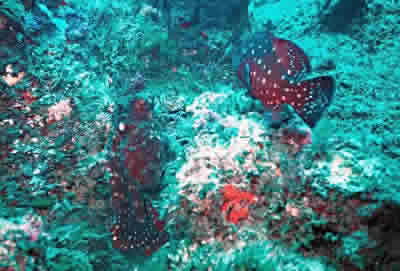 Octopus mimicking tomato rockcod, (Cephalopholis sonnerati)
Photo by David Holloway.


David describes his encounter:
" We were diving on Anton's (on Two Mile) at Sodwana when we noticed the tomato rockcod harassing an octopus. The octopus was swimming freely and changing colour very rapidly to try to blend into the background. I took this photo and only realised on developing it how the octopus was mimicking the rockcod. Notice that it is taking on the shape of the tail as well as the colouring ".
Well done David; this photo shows what capturing unusual behaviour on film results in - records of unknown interactions. Phil Heemstra has a few comments on this photo:
This photo is very interesting. It does indeed look like the octopus is mimicking the rockcod. I've never seen this before. It would have been great to get this on video and watch the interaction between the fish and octopus. Another WOW! photo. Well done!

Many thanks David, for sharing your WOW! PHOTO.
---
All text, images and photographs copyright © 2000, 2001, 2002, 2003, 2004, 2005 & 2006
South African Institute for Aquatic Biodiversity or the respective photographer. All Rights Reserved.
Last update: November 7, 2006